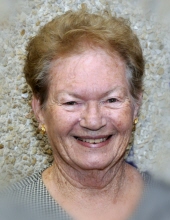 Obituary for Darlene Biondi Evetts
Darlene Evetts died peacefully surrounded by family at Methodist Hospital in Dallas after a three-day vigil, Monday afternoon.
Born September 29, 1932 at St. Paul Medical Center in Dallas to parents Matthew "Ace" and Lula Esto Biondi, Darlene Evetts is preceded in death by both parents and husband of 48 years, Samuel Gerald "Jerry" Evetts.
She is survived by brother Richard Biondi, his wife Paula Biondi, their children Craig Biondi and Alecia Biondi Morgan, as well as each of their families. Additionally, she is survived by her children and children-in-law Greg and Barbara Evetts, with their children Erin and Scott; Cynthia Evetts, with her children Mitchell and Marshall Reid; Jennifer and James Barclay, with their daughter Mary; Elaine and Danny Parham, with their children James, Hannah, and David and Jamie Burchfiel; and Wendy and Mark Bryan.
A lifelong member of Cliff Temple Baptist Church, she lived nearly her entire life in Oak Cliff.
Her family describes her as fiercely independent with a quick, dry wit, practical and nurturing. She was a girl scout early in life, going on to become a leader in the organization in 1956, the same year she married Jerry.
In 1979, she became a professional Girl Scout, serving as a field executive of the Tejas Girl Scout Council. She showed others how best to train the next generation of female leadership in the country.
A leader and deacon in her church, she and Jerry taught Training Union and then Sunday School for many years. Darlene also served as the Children's Sunday School Director. She taught ESL for the Goslin Center (currently Mission Oak Cliff)and most recently, faithfully collected hygiene supplies for those in need.
She is remembered as an excellent cook, an avid letter writer and a lover of the great outdoors. Undeniably the more athletic parent, she taught her children the basics of throwing a softball, among other activities. She made up crafts, songs and games to occupy her children and their playmates in an age without electronics. She used her own cellphone primarily as a nightlight.
Her children confirmed that she had a servant's heart: She never thought she was the smartest, prettiest, or anybody of much particular merit, but she was quick to recognize the best in others.
She served as her husband's primary caregiver for the final years of his life as he was claimed by a disease that slowly took many of his best qualities, yet she stayed faithfully by his side until the very end.
The following is an excerpt from a prayer read over her final bed: "Come, Holy Spirit, come. Come call your servant in from the fields. She has been a good and faithful servant and your child. She has raised five children with the faith and Love that only your child could have."
Darlene was a blessing to so many. She fought the good fight, she finished the race, and now she is resting in God's eternal grace and peace.
Previous Events
Visitation
Jaynes Memorial Chapel
811 S. Cockrell Hill Road
Duncanville, TX 75137
Service
Cliff Temple Baptist Church
125 Sunset Avenue
Dallas, Texas 75208
The funeral will be held in BASSETT CHAPEL
Cemetery Details
Location
Laurel Land Memorial Park
6000 S. R.L. Thornton Freeway
Dallas, Texas 75232
Memorial Contribution