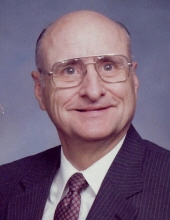 Obituary for Calvin Levi Drake
Calvin Levi Drake was born November 22, 1922 in Rockwood, Texas, Coleman County to Silas G. Drake and Bernice Stobaugh Drake. He passed away on February 5, 2019 at his daughter, Barbara's home in Midlothian, Texas surrounded by family and friends. He was preceded in death by his wife June Cawyer Drake, his parents, and infant sister. He is survived by his daughters Barbara Drake, Ann Beall and husband Roger, grandchildren Kim Brown and husband Aaron, Heather Fuller and husband Aaron, and Brandy Beall. He has left behind six great grandchildren, Ava, Gretchen, and Benjamin Brown, Madison and Jaycee Fuller, and Jennifer Billings.

He attended Chapel Hill Elementary School in Brown County and Brownwood Jr. High in Brownwood, Texas. He graduated from Lorenzo, Texas High School in 1940. He grew up on a farm in Brown County Texas and lived during the depression years helping his dad on the farm. As an adult he farmed his father's land for five years after his father's death. During WWII he moved to Dallas, Texas and worked at Hensley Field in the Post Engineers Office. He later met June Cawyer of Brownwood, Texas and they were married on April 8, 1948. They started a family by adopting two infant girls in 1955 and 1958, Ann and Barbara, raising them on a strong godly foundation. They lived a modest and happy life in the Oak Cliff area of Dallas, Texas where they were hard workers in the church, spending much of their time entertaining friends from church, and one of their passions, traveling throughout the states and abroad. Calvin retired from Romco Equipment Company in Dallas, Texas at age 65 and he and June continued to travel. In their retirement years they also raised their granddaughter, Kim. Calvin also found much interest in old steam engine trains, war history, fighter war planes and enjoyed reading and collecting train and plane books. He also enjoyed traveling the country back roads of Texas. After his retirement, he suffered a stroke in 1991 which left him an invalid for the remainder of his life. Though restricted physically, he was never one to complain and continued to enjoy life, church, and travel. He was well taken care of by his devoted wife June until she passed away over three years ago.

He was a lifelong member of the Church of Christ and was active as a deacon and church accountant. He was a member of the Cedar Hill, Texas Church of Christ at the time of his death. Calvin was a devoted Christian and family man all his life and dedicated his life to God. He was an inspiration to all who met him, a kind and compassionate man, quiet and slow to anger, and showed much love, respect, and dignity to others. He was loved and admired by many.

After a long journey here on earth at age 96, he now has the blessed assurance of earning his heavenly reward and the angels are now rejoicing. He suffered in his end days and he has now found the peace that passes all understanding and God's promise has been fulfilled for his faithful, hard working servant.

Graveside Service is 1:00 PM Saturday Feb. 9, 2019 at Cedar Point Cemetery, 6800 County Road 234, Brownwood, TX 76801. Visitation is 6-8 PM Friday at Jaynes Memorial Chapel, 811 S. Cockrell Hill Road, Duncanville, TX 75137.

In lieu of flowers, memorials may be made to The Christian Chronicle, PO Box 11000
Oklahoma City, OK 73136-1100.
Previous Events
Visitation
Jaynes Memorial Chapel
811 S. Cockrell Hill Road
Duncanville, TX 75137
Graveside
Cedar Point Cemetery
6800 County Road 234
Brownwood, Texas 76801
Memorial Contribution